Domestic Pleated Blinds
Key Features
Available in 'perfect fit' or 'beadfit' - no screw holes drilled.
Ideal soft furnishing for a conservatory roof
Wide range of fabrics from translucent to opaque
Solar reflective backing reduces solar gain and retains heat in winter
Honeycomb designs provide greater insulation
Available with a choice of cord, pole or motorised controls
Bespoke manufacturing to suit windows of almost any shape
Description
The neat, modern solution to the problem of heat, glare and light control, Sun-X Pleated Blinds can be manufactured to suit windows of almost any shape. Most often specified for conservatories, they can be made to fit the triangular and trapezoid shapes found in the popular Victorian style sun rooms. The wide choice of fabrics includes a range solar reflective backed materials to reflect solar gain in summer and reduce winter heat loss. The narrow pleat and headrail width ensures that these blinds can be used where window frame space is restricted and for doorway vision panels.
Product Enquiry
If you're interested in this product then please give us a call or fill out the form below and we'll get back to you.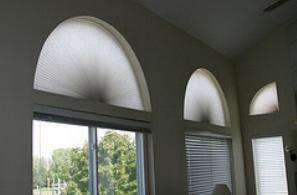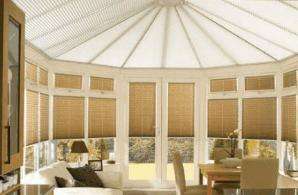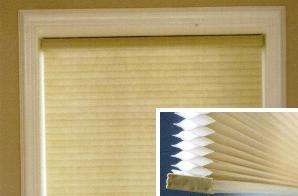 Many thanks for installing the sunscreen blinds, everyone is delighted with the effect!
Waddesdon Manor
Frequently Asked Questions
I have very large windows - what can you do?
Not only do Sun-X manufacture extremely heavy-duty systems to cope with wide and/or tall windows, some of our fabrics are over three metres wide, reducing the need for either fabric joins, or light gaps where two or more blinds are butted together.
My conservatory/office is too hot - will blinds help?
Blinds are not the most effective solution to solar heat gain, as the heat has already entered the building. Most blind fabrics will absorb, rather than reflect heat, which will re-radiate into the room. Even materials with reflective backings will rarely have sufficient capacity to reflect a substantial amount of heat, especially back through sealed units in double glazing. Solar window film reflects heat at source, and is therefore much more efficient.
My windows are out of arm's reach - can you help?
Sun-X manufactures and installs a wide range of motorised systems, now including battery & solar powered ranges, avoiding the cost and invasive installation of electrical wiring.
Can't find what you're looking for?
We'll find you the
right solution
Please let us know the details of your problem and we'll be in touch with our recommendation.