Flange-End Traditional Blinds
Key Features
Heavy duty metal barrel rollers mounted within the sash recess
No centre cord (unless required)
Roller can be spring loaded to assist ascent or fall.
Supplied with a brass K-cleat
Wide choice of covers from the Sun-X fabric range to grace any home.
Zig-zag side hems with a strong pear-shaped hardwood bottom lath.
Cover firmly adhered to the roller.
Generous extra amount of cloth to the drop required.
Description
The installation to the Venetian-style window pictured above illustrates how a uniform facade is achieved, taking into account the arched top light. The roller blind is fitted to the rectangular section of the window while the arch is covered using matching blind material attached to a timber frame formed to suit the shape of the arch. The architectural detail is therefore kept intact.
Sun-X Flange-End Roller Blinds can be virtually any size. These blinds have no centre cord and are recommended for doorways and for large windows where operation of Cap & Rack or Check Action blinds would be difficult or inappropriate. Operated with a single cord at one end of the blind, the cord winds around the flange as the cover descends. The cover can then be held in the desired position by securing the cord on a brass 'button' or 'K' cleat. Large Flange End Blinds incorporate a spring within the barrel to slow descent and to assist in raising the cover.
Used in conjunction with Sun-X ultraviolet filters provides a complete barrier against both fade and fibre degeneration.
Product Enquiry
If you're interested in this product then please give us a call or fill out the form below and we'll get back to you.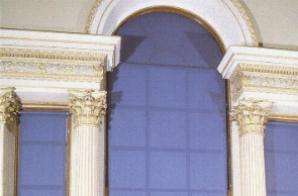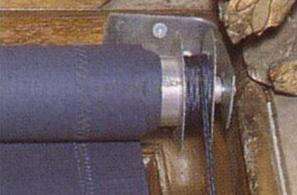 Thank you for the professional way your company conducted itself whilst working at The Marriott's. Ashley and Neil were both very polite and tidy during their working time with us and more importantly very courteous towards our residents. Please thank the guys for me and thank you SUN-X once again.
Barchester Healthcare
Frequently Asked Questions
I have very large windows - what can you do?
Not only do Sun-X manufacture extremely heavy-duty systems to cope with wide and/or tall windows, some of our fabrics are over three metres wide, reducing the need for either fabric joins, or light gaps where two or more blinds are butted together.
My conservatory/office is too hot - will blinds help?
Blinds are not the most effective solution to solar heat gain, as the heat has already entered the building. Most blind fabrics will absorb, rather than reflect heat, which will re-radiate into the room. Even materials with reflective backings will rarely have sufficient capacity to reflect a substantial amount of heat, especially back through sealed units in double glazing. Solar window film reflects heat at source, and is therefore much more efficient.
My windows are out of arm's reach - can you help?
Sun-X manufactures and installs a wide range of motorised systems, now including battery & solar powered ranges, avoiding the cost and invasive installation of electrical wiring.
Can't find what you're looking for?
We'll find you the
right solution
Please let us know the details of your problem and we'll be in touch with our recommendation.