Thursday, September 17, 2015
Solar-Safety window film for the home
Cooler and safe! Window film protection every family home needs.
Carefree playtimes in the summer sunshine can present two clear dangers, which we at Sun-X are keen to help reduce.
With children at home more during the summer months, the number of accidents caused by falling, and running into internal and external glass increases, as does the risk of overheating and sun damage to skin and fabrics through the presence of the particularly hot and harmful rays, glaring through the glass on hot, sunny days.
The Royal Society for the Prevention of Accidents (RoSPA) reports that the increased use of glass in the home has led to more glass related accidents and every year children die following an accident with architectural glass.
They recommend that as well as installing safety glass in your home you can help to prevent life-changing accidents, by making sure existing glass is safer 'by applying shatter resistant film'.
Young children don't understand how dangerous both can be but as parents, we can implement the changes required to limit the damage of such risks.
Our energy control window films reduce heat and glare, rejecting a high proportion of the sun's radiated energy by reflecting specific wavebands in the solar spectrum. This is especially effective on overhead glazing such as a conservatory roof or skylight.
As well as heat and glare reducing, our window film can be safety grade too, or even provide one-way privacy in the daytime, as a stylish alternative to net curtains.
Offering protection against dangerous flying fragments of glass from accidental breakage our Safety Window Films can be installed to existing glass easily, without changing the window's appearance.
The latest advances in manufacturing processes have made it possible to produce 'clear' low-reflective safety solar films too, which reject 50% or more of the sun's energy whilst permitting a very high level of visible light through the window.Our products are suitable for the majority of family homes, and also protect furniture from sun damage.
As well as a safe choice, the films we install at Sun-X are a smart one too, with energy savings for air-conditioned homes which have been fitted with solar film.
Our solar/safety window film is an extremely cost-effective and 'green' solution for reducing energy consumption in your home whilst protecting against the dangers of glass too.
Contact us now for a free, no obligation quote for your home.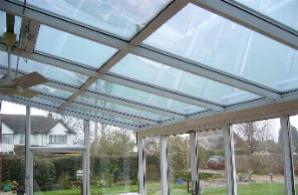 Can't find what you're looking for?
We'll find you the
right solution
Please let us know the details of your problem and we'll be in touch with our recommendation.