Monday, March 16, 2015
Solar Shade Blinds – reduce heat & glare
Today's interior working environment sets a premium on naturally-lit open work spaces which allows individuals and work groups to communicate freely, and to enjoy a higher level of personal comfort. This design consideration must also take account of the almost universal use of computer workstations and VDU's for the widest range of office-based tasks.
A second influence in the provision of modern workplaces is the design trend towards open-plan office accommodation and the use of larger areas of glass in building design. This has been brought about by incorporating curtain wall glass facades and glass partitioning within the building interior.
However, these design trends can present certain challenges to the average office worker. Excessive amounts of uncontrolled sunlight entering a building cause solar gain and unwanted glare. Productivity at the workstation can quickly deteriorate when temperatures rise and computer screens become illegible. In most instances, the solution to these problems has been to install blinds and extra means of building ventilation and cooling. Normal fabric blinds, even those with a slightly metallised backing, not only block the view, but are inefficient at reducing solar heat gain because they do not have the power to reflect the heat back through the glass, merely absorbing the solar energy which radiates into the room.
A technically advanced and environmentally friendly solution to these problems is to use energy control roller blinds featuring transparent and reflective 'shade' films. These are manufactured and installed by Sun-X using exactly the same technologies as those used for solar window films applied directly onto glass. They permit excellent visual transparency, whilst allowing the user to reduce the amount of glare and heat entering the works area, only as and when required without permanently reducing light levels as with anti-glare film.
Reflective shade films reject up to 95% of solar energy, and glare reduction of up to 98%. Over 99% of ultraviolet light is also eliminated, helping to reduce fade and rot damage to valuable fabrics and furnishings.
The films are also available with an embossed surface, helping to diffuse incoming light, thus further reducing direct and indirect glare. The direct reflectivity is also reduced, enhancing the aesthetic appearance from both internal and external views. Durability and longevity are also greatly improved.
'Shade' blinds are also very effective and desirable in domestic conservatories, where daytime privacy my also be required in addition to the solar benefits, whilst still allowing the occupants to look out onto their garden.

Sun-X (UK) Ltd. provides a nationwide installation service through the United Kingdom – please contact Sun-X to find out more.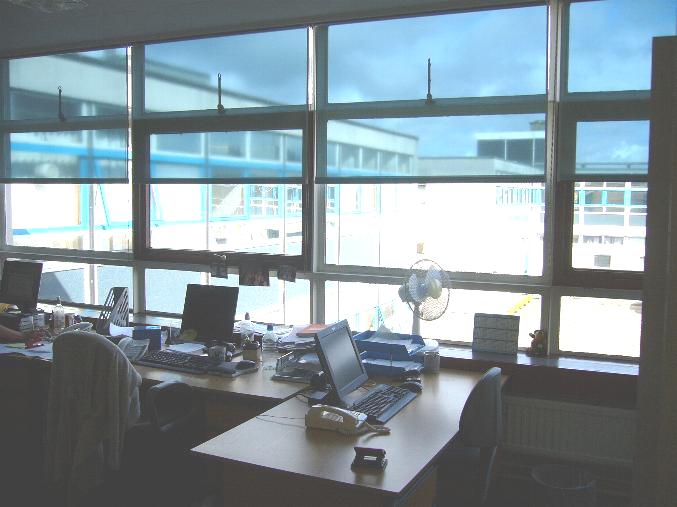 Can't find what you're looking for?
We'll find you the
right solution
Please let us know the details of your problem and we'll be in touch with our recommendation.