Monday, March 02, 2015
Safety window film – make your glass safe
In today's world, terrorism, crime, vandalism, and everyday accidents are ever-increasing concerns. Safety window films provide an optically clear and robust barrier to not only strengthen glass, but keep it in place should it break. Not only is flying glass potentially lethal to a building's occupants or the general public, but can ruin shop displays and/or expensive and sensitive computer equipment. If the windows remain intact, this can also prevent businesses suffering downtime and resultant loss of productivity. Either 175 micron safety film or 100 micron safety film can be easily and cost-effectively retro-fitted to any smooth glass surface, even curved, without the expense and inconvenience of glass replacement. Professionally installed by Sun-X, the film will comply with the most stringent industry standards, and carry a ten year warranty.
Various thicknesses are available to combat human impact, blast mitigation, and forced entry. Elements of solar control and privacy can also be incorporated into the base material to provide a single solution to a multitude of problems.
Protecting against human impact is a primary concern in areas of high activity, such as schools. Injuries can be horrific, and it is the employer's duty to render safe the glazing in risk areas under the Workplace (Health, Safety & Welfare) Regulation 14 of 1992.
According to Home Office figures, flying glass causes 90% of all injuries in an explosion. Explosive attacks on buildings create a rapid release of energy in the form of a shock wave. Window glass is often the weakest part of a building, breaking at low pressures compared to other building components. Buildings close to a potential terrorist target may still be subject to substantial damage from an attack not specifically directed at them. Safety film is tested to withstand blast forces and retain the broken glass. If maximum protection against extreme force is required, the film can also be dovetailed with an edge-retention system, which will hold the entire sheet of filmed glass within the window frame.
To combat would-be thieves, safety film forms a barrier that delays penetration of the glass making it difficult to gain easy and immediate access. If the burglar is met with a degree of resistance, the individual will usually quickly give up and move on.
Sun-X (UK) Ltd. provides a nationwide installation service through the United Kingdom – please contact Sun-X to find out more.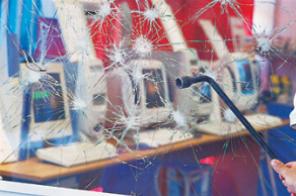 Can't find what you're looking for?
We'll find you the
right solution
Please let us know the details of your problem and we'll be in touch with our recommendation.