Thursday, September 15, 2016
Office Meltdown: "My Office Is Too Hot!"
In the high heat of summer, working in the office can be a dreaded prospect—even on your good days. Does your average workday include turning on every fan to the highest setting? Cracking open every window? Or using your work's brochures as makeshift fans? Let's end this today.
At the Sun-X office in West Sussex, we have plenty of solutions that can help you overcome Stuffy Workplace Syndrome.
Help: My Office Is Too Hot!

We have a variety of products that can help with the summer heat, so you don't have to carry on your day hoping a breeze might pass through the window.
Our specialty window blinds can help control your workplace environment by reducing glare through the windows, so the sun won't bounce on your computer.
screen, which will combat eyestrain.

Our sunscreen window blinds ensure that heat won't travel through the window
and will also maintain your workplace's outside views, so you don't have to close the blinds to make sure your office will be cool.

We also have multiple styles for your business to choose from, such as pleated, venetian, vertical, and roller. They can also be specially made in our
workshop, so they can fit directly into your window by our team and so there are no hideous holes out in the open—just clean, smart and effortless.

If you find that your office is a building that tends to be stuffy in the summer, but freezing in the winter, then we have specific window films that will help tackle both problems. These window films are perfect for insulating your workspace during the winter months and helping to reduce heat and
glare during the summer season. You can also get them modified, so you can have your business' motif and information advertised to people passing by!

If your office is too hot, don't suffer in silence! Our window films and blinds come in a variety of styles and offer plenty of solutions so you don't
have to be feeling the heat over your computer desk. Get in contact today and one of our advisors can inform
you on the best product for your problems.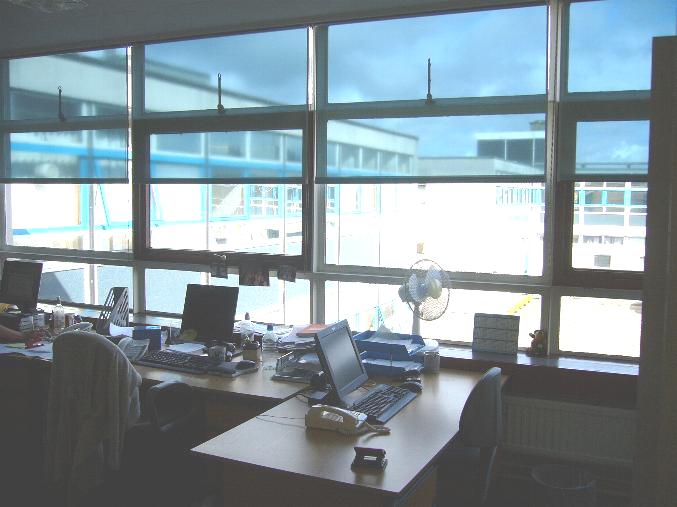 Can't find what you're looking for?
We'll find you the
right solution
Please let us know the details of your problem and we'll be in touch with our recommendation.