Monday, April 27, 2015
High Performance Solar Film
A successful manufacturing company in the south of England was recommended to contact Sun-X with a view to reducing the solar gain in their factories and offices. A previous installation to the inside of the double glazing was proving inefficient, and was also starting to degrade.
When a solar window film is applied internally to sealed units, a proportion of the reflected heat becomes trapped in the airspace and radiates into the interior. James Willson of Sun-X advised the facilities manager that in order to achieve maximum solar reduction, the film ought to be applied externally. Additional benefits were minimising the risk of thermal cracking, and also that the work could be completed without interrupting the workings of the numerous staff and machinery.
A further design brief was that the film was required to be of a bronze/copper colour, to match the external façade. This resulted in the specification and subsequent application of an external dark copper solar film, which offers a massive 88% solar energy rejection, 75% glare reduction, and one-way privacy in daylight hours, whilst still allowing a clear view to the outside. The film also has a patented scratch-resistant external weatherable coating to enable it to withstand both the elements and cleaning processes.
Delighted with the result, the facilities manager has also since instructed Sun-X to replace various blinds, and install a band of white opaque frosted privacy film to internal office screens to shield sensitive workings from the eyes of onlookers, without noticeably reducing the light levels.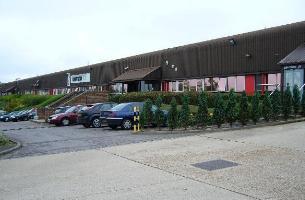 Can't find what you're looking for?
We'll find you the
right solution
Please let us know the details of your problem and we'll be in touch with our recommendation.