Monday, May 25, 2015
Cut energy costs with solar window film
Saving energy is currently high on the corporate agenda. With meteorologists predicting sort and long term temperature increases, the issue of cooling office buildings without increasing air-conditioning is becoming paramount. The need to conserve costly energy, reduce carbon footprints, and conform to ever-stricter environmental standards is of the highest importance. Having solar control window film installed is one of the quickest, and most cost-effective methods available. Air conditioning bills can be cut by up to 30%, with a payback period of as little as three years.
The CRC Energy Efficiency Scheme (formerly known as the Carbon Reduction Commitment) is the UK's mandatory climate change and energy saving scheme, started in 2010, and is borne of the Climate Change Act 2008.
Furthermore, the Minimum Energy Efficiency Standard (MEES) requires rented commercial premises, as of 1 April 2018, to have an Energy Performance Certificates (EPC) rating of at least an 'E'. Buildings currently rating with an F or G will need to make efficiency upgrades to comply, thought to affect 1 in 5 landlords.

With solar energy rejection of up to 79%, window film can from window film suppliers Sun-X can provide dramatic energy savings at a relatively low cost, with little or no disruption to building occupants. In addition to supplying and expertly installing the film, Sun-X (UK) Ltd. can also arrange for an energy efficiency audit to assess the impact on specific building designs.
If the internal surface of the glazing is inaccessible, or incompatible with the chosen film, external window films are available with extremely durable coatings, carrying warranties of up to ten years. Furthermore, solar rejection factors on double glazing will be even greater, as the sun's heat will be reflected before it even hits the building.

Visit elsewhere on our website where some further examples from the wide range of Sun-X solar films are presented.
For a free no-obligation quotation for solar window film, contact Sun-X.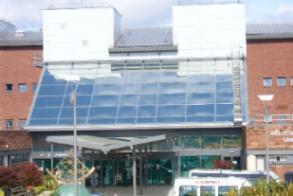 Can't find what you're looking for?
We'll find you the
right solution
Please let us know the details of your problem and we'll be in touch with our recommendation.