RHS Wisley
Name of company: RHS Wisley
Instalment: Solar control window film
Founded in 1804, RHS (The Royal Horticultural Society) is the world's leading gardening charity, aiming to make the UK a greener place and to enrich everybody's life with plants.
RHS Wisley (a flagship property for the charity) welcomes 1,232,772 visitors per year on site (stat from 2019*), making it the 2nd most paid visited gardens in the UK. It is a research centre for horticultural scientists, advisors, and informational specialists, and offers training and career paths in the sector, encouraging the next generation to support the environment, the economy and food security.
As such a large organisation, which educates schools, hosts events, and brings the local community together with their plant shops and family activities, the interior conditions of their enclosed areas were a priority to get right.
Overheating, particularly during the Summer when prime activity takes place, was becoming a fundamental problem within their shop, which needed to be resolved promptly, given the volume of shop visitors.

The project
Sun-X was commissioned to reduce overheating and glare in the new fully glazed shop area, part of RHS Wisley's £20m revamp that officially opened to the public in June 2021. Not only were these factors uncomfortable for both shoppers and staff, but the UV rays from the sun were a threat to the preservation of display items.
Project Objectives:
To lower temperatures within the shop
To provide a more comfortable experience for visitors and employees
Protect valuable display items from long-term damage
Project Challenges
The main challenge for the client was needing an effective, high-performance product which wasn't visually distracting in a consumer-facing environment.
Sun-X found that accessing the glass was a challenge, as in most retail environments, having to manoeuvre around display shelves and lighting rigs.
Both challenges were dealt with, thanks to the product knowledge and experience Sun-X brings to the job!
How Sun-X approached the challenge
Sun-X installed a neutral density film, with a stronger tint on the roof glazing and a more transparent option for the vertical glass – and manoeuvred around the display areas and fixtures using a combination of mobile scaffold towers and battery-powered cherry pickers.
Outcome
After the installation, RHS Wisley experienced a significant reduction in both heat and glare within the shop, resulting in more productive staff, and happier customers who now have a more enjoyable shopping experience.
Display items are also now protected from fading caused by heat, light & UV from the sun.
Sun-X's solar window film has an array of benefits, ranging from:
Reduced solar heat gain and glare
Insulation during the winter to reduce heat loss and cut utility bills with Low-E films
Added privacy
Reduced carbon footprint
Reduced UV radiation
Protection from sun damage to fabrics, artwork and valuables.
Enhanced safety with glass shatter-proof film.
Explore all window films here
To discuss your requirements, get in contact with us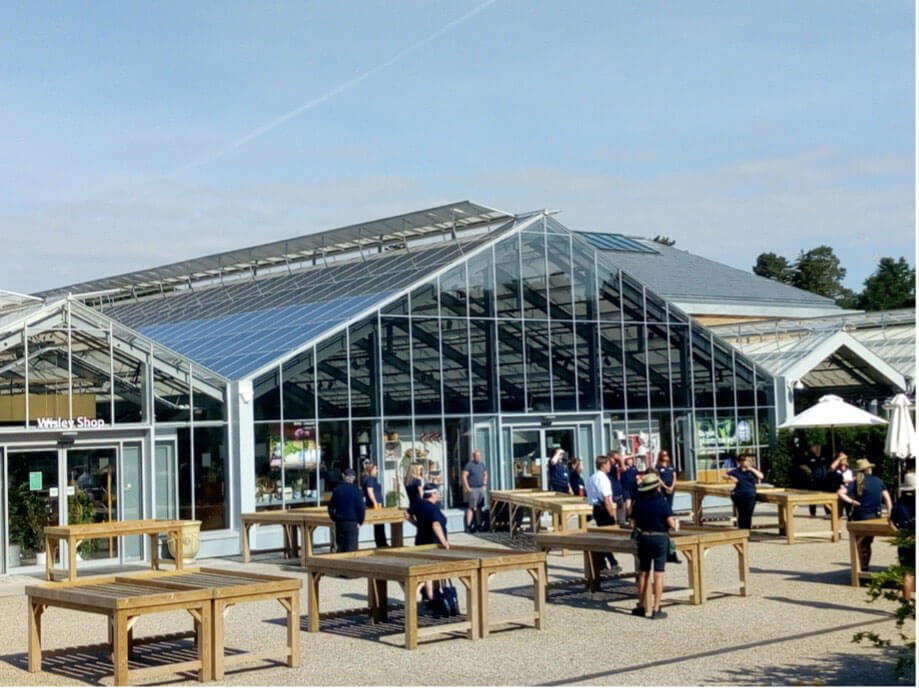 Can't find what you're looking for?
We'll find you the
right solution
Please let us know the details of your problem and we'll be in touch with our recommendation.