Leisure Centre In The South of England
Client: Leisure Centre in the South of England
Installation: Solar film
The project
We were contacted by a leisure centre in the South of England to solve their glare problem for the swimming pools, and overheating problem for children's play areas and reception, caused by large expanses of glazing. They had previously tried installing internal blinds, but a blind material does not normally have the power to reflect sufficient heat back through the glass, and merely absorbs the solar energy. The material did this to such an extent that it caused the laminate glass to crack, the large panes of which were extremely expensive to replace.
How Sun-X approached the challenge
The only solution was to apply an external solar film, with both high solar reflection, and minimal solar absorption, to ensure the maximum amount of heat could be kept out, with a minimal risk of further thermal cracking. Looking for a long-term solution, the centre accepted the recommendation of an external dark silver reflective solar film, with an impressive 10-year warranty.
A powered access boom was required in order to safely access the windows, which Sun-X operatives are qualified to operate.
The film offers 81% solar energy rejection, 80% glare reduction, and one-way privacy in daylight hours, whilst still allowing a clear view to the outside. The external coating has market-leading performance, being both hydrophobic, and oleophobic.
Outcome
Since the installation, conditions in the swimming pool area have improved significantly, as glare is no longer a problem. The children's play area and reception are now at a controlled temperature, allowing staff to work more productively, and the children to not become overheated.
Since then, Sun-X has continued to help solve similar problems for various other buildings for the leisure group to which this particular centre belongs.
To discuss the requirements of your project, get in touch with us here. Sun-X manufacture and install a range of window film and blinds for all kinds of commercial and historic buildings.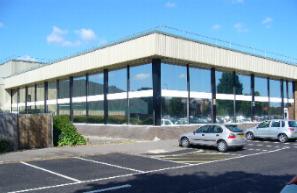 Can't find what you're looking for?
We'll find you the
right solution
Please let us know the details of your problem and we'll be in touch with our recommendation.